It's time to sign up for our organic summer boxes !
Community Supported Agriculture (CSA)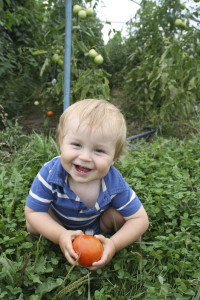 Community Supported Agriculture (CSA) is an approach that directly links consumers with local farmers that use environmentally-friendly practices. Consumers join a CSA by becoming a partner. To do so, consumers pay in advance for a share of vegetables. In exchange, the farmer delivers farm fresh veggies to a drop-off each week during harvest season where consumers come to pick up their veggies. In Quebec, there over 150 farms and 30,000 families that participate in the CSA network, a network initially launched by Equiterre and now coordinated by the Coopérative pour une agriculture de proximité écologique – it is a network that contributes over 6.5 million dollars to the local economy each year. CSA is a win-win formula that- in addition to playing an important role in strengthening sustainable & local agriculture in Quebec:
It offers you:
A direct link with your farmer
Access to healthy farm fresh veggies at a great price
The opportunity to visit the farm, participate in farm events & know where your food comes from.
It offers farmers :
The support of an amazing community of committed consumers
Revenue early during the season when our expenses are numerous
The opportunity of planning in advance the season's production & harvest… thus enabling the least waste possible.

CSA Box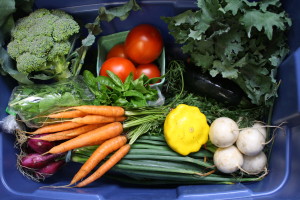 Each week during the summer season (end of June to early October), we will deliver your farm fresh certified organic vegetable basket at the drop-off point you signed up for. The content of the basket varies each week and includes, on average, 8 to 12 different vegetables that are in season. In each basket, we try to include a diversity of vegetables while also providing you as much as we can with a good selection of "staple" vegetables (e.g. carrots, tomatoes, onions, lettuce, etc.)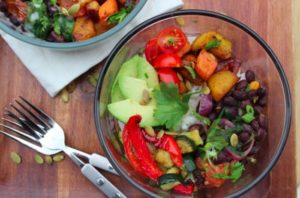 Another great perk is that we'll also send you our e-newsletters that we email to our clients each week during the season with news from the farm, photo of what's in the box and our favourite plant-based recipes featuring the veggies from our box- here's an example of one of our 2018 newsletters.
Just to give you a taste of the favourite recipes that we share each week, here's our squash rice bowl recipe!
Box Price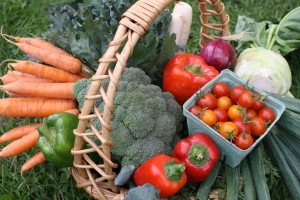 Our farm fresh organic vegetable baskets are available on a weekly basis or every two weeks depending on how many veggies you like to eat. The 2023 CSA box season will run for 16 weeks from the week of June 20th to the week of October 3rd. We will contact you in early June to confirm the start-date. Here are our prices* (if you sign up once the season has already started, the price will be pro-rated based on how many weeks are left in the season) :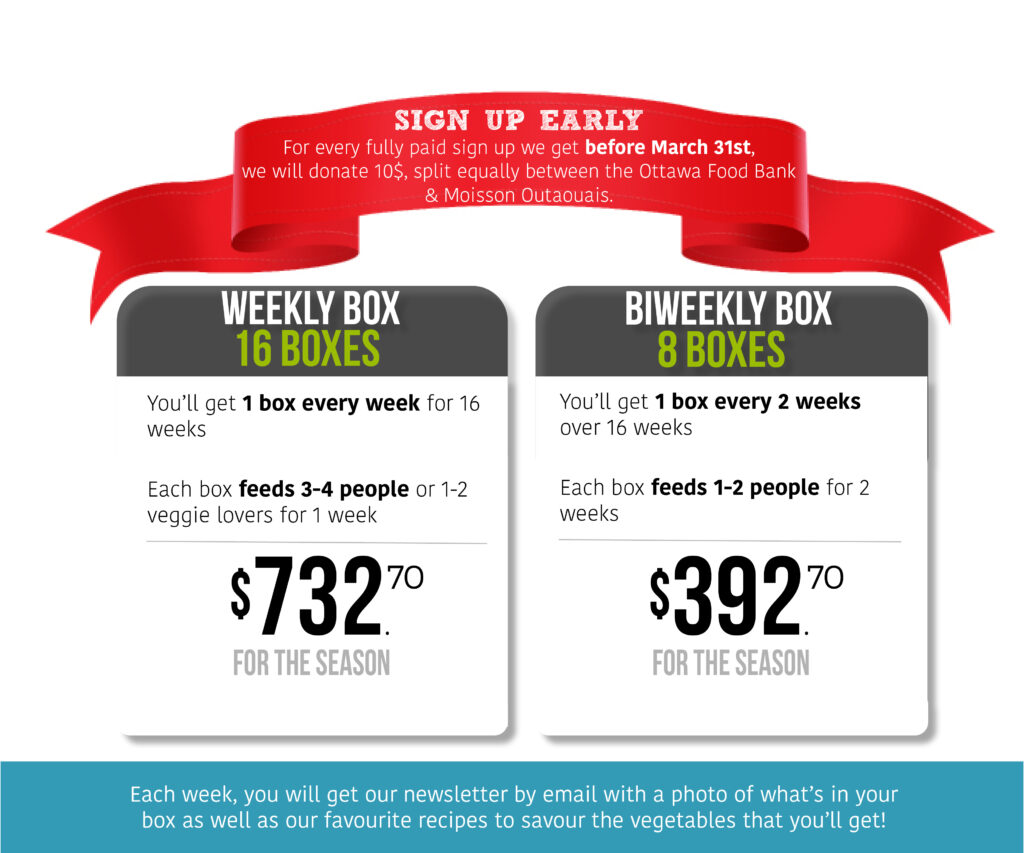 Freshness-wise, you can't get this quality from the grocery store. It's a great deal!
* Our prices includes a mandatory contribution of $ 18 (+ taxes: $ 2.70). This contribution will be forwarded to the Family Farmer Network to provide a variety of services to member farms and make Community Supported Agriculture known to the public.
Box Content
What's in your box? Well, each week is a little different. You'll get, on average, 8-11 different veggies per basket. We always try to include a good base of "staple" vegetables (e.g. carrots, tomatoes, onions, lettuce, greens, etc.) and complement with a nice diversity of veggies that happen to be in season that week (e.g. eggplant, zucchini, kale, squash, garlic, etc.) The first few weeks tend to have more greens until the summer's vegetable bounty kicks in. Here's a glimpse of what some of our boxes looked like in 2021: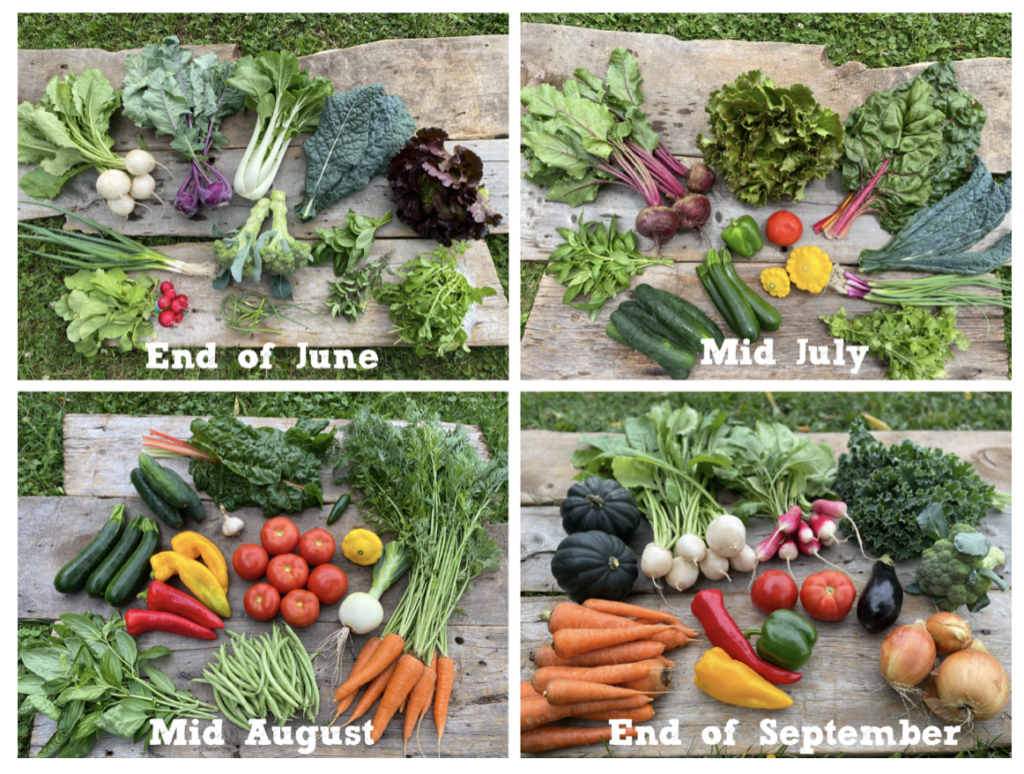 Planning Vacations?
We all need a little time off. We're quite flexible on the vacation front to accommodate to your needs:
You can choose to reduce how many boxes you get during the season.

You can make changes yourself to your online calendar (move a box to another date, choose another drop-off location for a delivery, etc.) up to 48 hours before any delivery.
Planning a long vacation or you have a last minute change you need to make? Please contact us and we will see how we can best accommodate you.
Drop-off Points
We have many drop-off points, in Outaouais and in Ottawa. As a CSA partner, you simply have to choose the one most convenient for you. It usually only takes partners a few minutes to pick-up their veggies. Please bring your own reusable bags and containers to bring our harvest home with you.
TUESDAYS:
Gatineau (Aylmer): 186 de la Colline Avenue (at la Boîte à grains), between 3:00 pm-9 pm.
Gatineau (Plateau): 25 du Plateau Boulevard (at la Boîte à grains), between 2:30 pm-9 pm.
Hull/Val-Tétreau: 56 Bourget (near Moussette Park), between 2 pm-8 pm.
Glebe: 166 Glebe (on Glebe near Lyon), between 4:30 pm-8 pm.
Nepean: 14 Higgins Rd (near Greenbank/Baseline), between 3 pm-8 pm.

Parkdale: 729 Gladstone (at Seed To Sausage, west of Bronson), between 4 pm-6 pm.
Westboro: 517 Cole (near Churchill/Richmond), between 3:30 pm-8 pm.
THURSDAYS:
Buckingham: 746 Av. de Buckingham (at Fine et Fûtés near the Jean-Coutu), between 1:30 pm-6 pm.
Gatineau (Gréber):

325 Boulevard Gréber

(at

la Boîte à grains), between 2:30 pm et 9 pm.
Gatineau (Mont-Bleu): 774 Saint-Joseph Boulevard (at Brûlerie Aladdin, west of Autoroute 5), between 3 pm-6 pm.
Lochaber-Partie-Ouest (at the Farm): 829 rang 4e (near Thurso), between 4 pm-7 pm.
Gloucester: 787, DeSalaberry Street (near Montréal road/174), between 4 pm-8 pm.
Orleans: 1879 Prestwick Drive (near Tenth Line & Innes), between 4:30 pm – 8 pm.
Vanier/St. Laurent: 1000 North River (south of Donald), between 3:30 pm-8 pm