Looking for vegetable storing tips?
Check out our top recommendations here.
Looking for recipes?
You'll find more of our recipes on BakeSpace (where you can browse our recipe box by ingredient) but here are some of our favourite recipes and tips to help you appreciate our delicious veggies even more! Keep checking this page as we will be updating it throughout the summer!
Basil (Genovese): Jazz up any italian or asian meal by adding a little basil! Of course, you may also want to make pesto (parmesan is optional, I always leave it out)! The best way to store basil is in a Mason jar with water on the counter.
Basil (Thai): This basil has purple flower and is great when added to your thai dishes, such as Jim's vegetable green curry, or Gen's quick Thai curry, Thai stir fry, and asian soups (try this Thai cabbage coconut soup). Try also our Thai basil eggplant. Add thai basil just before serving- it really brings humph to asian meals and makes them taste authentic. You have too much? Lay the branches on parchment paper and freeze- once frozen, transfer them to a container in the freezer. Use them in cooked meals- they will loose their colour but will taste just as great!
Cucumbers: We grow 3 different types: american slicing cukes (average cucumber with tougher skin than English cuke), lebanese cukes (small, smooth-skinned, nearly seedless and mild, yet with a distinct flavor and aroma), and pickling cucumbers. All are are great raw, in lettuce, pasta and couscous salads. Try our spicy cucumber wedges and our refreshing cucumber agua fresca/drink. Check out Lebanese cucumber recipes here.
Eggplant: Eggplant is a very popular in the cuisine of many countries/regions (Turkey, Greece, France, Italy, China, etc.) Although many recipes say you should, there's really no need to salt or drain modern day eggplants, which are by nature less bitter (fewer seeds, harvested younger, etc.) The key to cooking eggplant is to do it with high heat. Check out some of our favourite eggplant recipes here, which include Imam Bayildi. Ratatouille and moussaka are also musts. Try Baba Ghanouj too and Thai basil eggplant! Try eggplant crackers too!
Garlic scapes: Just chop and use garlic scapes instead of garlic in stir fries, dressings, dips, salads, etc. (1 garlic scape = 1 garlic clove). No peeling necessary! Scapes keep in the fridge for weeks. You'll also want to try garlic scape pesto.
Green onions (green or red): Harvested for their taste, they are milder than most onions. They may be cooked or used raw in salads, salsas, Asian recipes, in soups, and sandwiches. You can try roasting them too. Both the green and white part can be eaten (cook the latter a little longer, and just add the former to the meal once cooked).
Kale: One of the most nutritious veggies out there! Check out our favorite kale recipes! We also love this quinoa-kale-squash salad recipe. NOTE: Siberian kale has lovely tender and mild leaf that has a slightly mustard/rapini taste which makes it great in salads but it can also be cooked.
Kohlrabi: A forgotten but delicious and nutritious veggie to discover! Both leaves and bulbs are edible. Use kohlrabi leaves the same way you do for spinach, swiss chard and kale… or use them to make raw wraps. Kohlrabi bulbs are really great raw; just slice or grate them in salads or simply cut them into matchsticks and serve them with your favourite dip (ex.: hummus)! Dice kohlrabi bulbs and use like broccoli (in stir fries, etc.) When cut in matchsticks, bulbs can also be roasted or used to make oven fries. Check out some of our favorite kohlrabi salads (kohlrabi salad, kohlrabi-cilantro-lime, or this kohlrabi-radish salad), kohlrabi pancakes (latkes), as well as our kohlrabi curry!
Leeks: Leeks are often used the way onions are–to enhance the flavours of soups, stews and other long-cooking dishes or used as the main ingredient in certain dishes that highlight it's bold flavour. Although many recipes claim that the only edible portions of the leek are the white base of the leaves, you can also use the dark green parts of the leaves. The dark green portion is usually discarded because it has a tough texture, but it can be sauteed or added to stock and is great in soups (the longer you cook them, the more tender they are and flavour they bring to your recipe). Use them as a substitute for scallions in recipes (just chop them fine).

To clean leeks: Cut off the roots of the leeks. Slice the leeks lengthwise. Fan open the leek and place under cold running water. Rinse out any dirt or sand.
To store leeks:

Unwashed and untrimmed leeks can keep for 5-14 days loose in the fridge (vegetable drawer) or for 1-3 months if loosely packed in a bag (using 2 if they are too long).

Recipes:

Braised on the BBQ. We also love cold Vichyssoise leek soup and warm potato-leek soup. We also like leek salad and adding leeks to our pizza. Here are 10 other ways to enjoy leeks.
Lettuce: Delicious with any of your favourite dressing and keeps quite well in the fridge in a bag. We love this Fattoush salad recipe! Try this balsamic vinaigrette for a delicious dressing.
Pac choi: Great in salads, asian dishes and stir fries. You can also BBQ Pac Choi for a quick side dish – you just grill each head, cut lengthwise, with salt and pepper. Then serve, drizzled with maple syrup and topped with raspberries. Stunning AND delicious! Check out more pac choi recipe ideas here.
Onions (fresh summer onions) – Fresh onions are a 2-in-one. Use the bulb as you would storage onions and eat the tops like green onions. Keep them in the fridge a few weeks!
Pattypan squash: This summer squash is shaped very much like a UFO with undulating edges and may well blow you away! Use it like zucchini. Try our pattypan squash hummus for a light and refreshing twist on a old favourite (you can also make that recipe mixing pattypan and zucchini). Add it in your favourite pasta and quinoa salads, tomato sauce and chili!.
Peas: Peas are only here for a very short period (usually 2-3 weeks). Also, peas don't keep long- plan to use them within a couple of days or blanch & freeze them! They are delicious raw or cooked. Just cut off the edges and string them before you eat them.
Peppers (jalapeño – hot pepper): A hot chili pepper you can use to spice up dishes. They can also be stuffed. BEWARE: You're always better to add a little amount at a time and then increase if needed as some peppers are quite hot. Try our homemade tomato-basil-jalapeno salsa, or Pico de Gallo, or jalapeño poppers. And you can also try jalapeño hot sauce if you have a lot of jalapeños. HOW TO DRY JALAPENOS: Try stringing them to dry them (they make a great gift) or dehydrate them to make hot chilis- 2 easy ways to keep them longer!
Peppers (green or red bell peppers): These peppers are sweet. Basically green peppers are just unripe peppers (but they are ready to eat). Green and red peppers can be eaten raw! They are also great as pizza toppings, in curries and stir fries.
Rabioles (white turnips): Another favourite- it was one of our son's first foods that he loved pureed and now eats them like an apple! White turnips are delicious raw (as a snack), grated/sliced in salads, or cut as matchsticks. We love to add them to our pasta and quinoa salads. We also like this simple rabiole thai salad as a side dish. Rabioles are also great cooked in stews, soups (also try the simple French Farmers' soup), and stir fries or roasted with other root veggies. Try this indian rabiole & kohlrabi dish. The leaves are a tad bitter but are edible (add them to salads or stir fries). If you hope to eat the leaves, trim them off. Here is a simple recipe that uses both the leaves and the bulbs.
Radishes: Here's more info about 3 different types of radishes that we grow:

French breakfast radish (spicy): Bright rose scarlet at the top with white blunt tips, this popular HEIRLOOM radish is 5cm (2″) long and perfect for munching and slicing. In France, people often eat it cooked with butter (see hot eating tip section below for details). Add these radishes to your salads. Try our french breakfast radish pasta and our french breakfast radishes- Japanese style.
Watermelon radish (spicy): is an heirloom Chinese Daikon radish with a gorgeous pink center that just screams EAT ME! (See hot eating tip section below for recipe ideas!
Daikon radish (mildly spicy) (we've been growing it for years- we just wanted you to compare it with watermelon radish). Daikon radish is often eaten cooked in curries, stir-frys, or asian soups. It is also often marinated and used for sushi! Check out these 10 different ways to enjoy daikon radish.
TIPS for eating radishes: If you don't like the spiciness of radishes, marinate them first: put them in a sweet vinegar, such as red wine or balsamic, to marinate for 15 minutes or more. Radishes are in the same family as turnips and so the tops are edible. They can be chopped and added to soups or stir-frys (they can also be eaten raw but many find the little spikes discouraging – these go away when cooking)! Have too many but want to keep them fresh? Cut off the leaves (you can store them in a separate bag in your fridge). Put the radishes in a mason jar, fill it with water, put the lid on and store it in the fridge. Radishes will stay crunchy for about a week. Change the water every day (or other day). In France, many people eat whole radishes by making an "X" in the top with a knife and inserting a small "wedge" of butter. This is especially true for French breakfast radishes.
Squash (butternut)- One of the most well loved winter squashes. They're quite sweet- Jim's grandma always made pumpkin pie with butternut squash and it was delicious… it's worth a try! Try ou glazed butternut squash recipe or this butternut soup (recipe in French only). Click here for over 50 recipe ideas and tips on how to cook butternut squash! Note: Our squashes will keep for months if you store them in a dark dry place at 10-15C.
Squash (delicata): A wonderful and stunning squash whose skin you can eat. We love dicing it and throwing them in our homemade tomato sauce when we make it. Delicate-Kale salad is just heavenly and so is delicata squash bake. But if you're looking for something delicious AND simple, try this side dish: Cut it in half (lengthwise), then slice it every 1 inch or so to get u-shaped slices. Lightly coat with oil and salt (not much needed) and line on parchment paper on a cookie sheet. Bake 20-25 min at 400F (flip them half way through).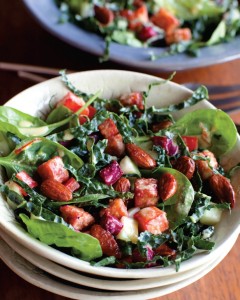 NEED MORE RECIPE IDEAS?
Check out our BakeSpace Account (member name: ourlittlefarm).
Check out recipes that Chefs from Quebec made from CSA boxes (in French).
Check out Trois Fois Par Jour's blog for more ideas often inspired by CSA boxes.