About the farm
Passionate about ecological agriculture, we believe that local organic veggies are the first step towards a remarkable food experience, a vibrant community and a healthier planet. After years of working on organic farms, we started Our Little Farm in 2011. As a young family farm, we grow 35 different types of certified organic vegetables in Lochaber-partie-ouest (Qc). We offer CSA boxes and also sell our veggies during the season at our farm kiosk. We love food, sharing our favorite plant-based recipes, giving back to the community, and contributing to building a better food system. Our Little Farm has received several distinctions, including the Prix de la relève agricole 2018, a prize recognizing the work and excellence of young farmers in Quebec.
Our team consists of a permanent team of two farmers which is joined by a small seasonal team of keen local young people interested in sustainable agriculture during the growing season each year. Here's more info about our permanent team.
Jim Thompson, family farmer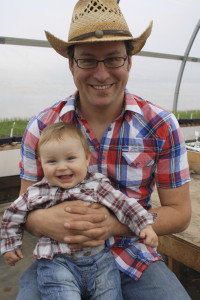 After graduating from his Geography and Urban Studies program, Jim went to Cuba for a few months to work with Genevieve on an urban organic farm. It is there that Jim discovered his passion: growing vegetables! Upon his return, Jim looked for a job on a farm. He was soon hired at
La Ferme du Fort Senneville
(FFS), one of the few small-scale organic farms on the island of Montreal. Everyday, after working long hours, Jim would come home and read everything he could about agriculture. After two successful years managing production at FFS, Jim was hired at the
Ferme écologiques D-Trois-Pierres
, another organic farm in Montreal. There, Jim helped oversee the production of 400 CSA boxes and also worked with at youth risk who were part of the farm's social reinsertion program. Working at D-Trois-Pierres not only helped Jim strenghten his agricultural skills, it allowed him to start sharing his passion for agriculture with youth. Seduced by the beauty of Outaouais in 2010, Jim decided to start his dream farm at the
Plateforme agricole de l'Ange-Gardien
, an innovative farm incubator project that helps young farmers start their business on rented land. Recently, we found our
new
little farm in Lochaber-partie-ouest! Jim is the power house behind the farm. A bit like a composer and conductor at once, he plans oversees all aspects of the farm and makes sure everything runs as they should… and always better! Jim won the
Prix de la relève agricole 2018
.
Geneviève Grossenbacher, family farmer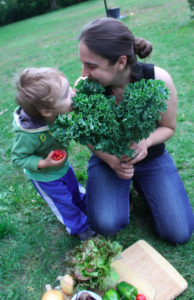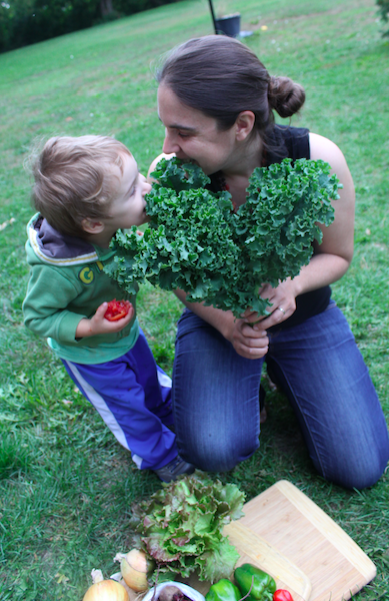 Passionate about ecological agriculture and good food, Genevieve always worked to promote local organic agriculture in Canada and abroad. In University, Genevieve was a baker for a student-run vegan local organic cafe. She also founded a group that served free healthy meals to students at events. As soon as she graduated from Environmental Studies, Genevieve went to work on a farm in Havana (Cuba) where she promoted urban agriculture and managed a demonstration garden where she taught students how to grow food. Back in Canada, Genevieve coordinated a collective garden in Montreal and was soon hired as director of an Éco-quartier, a position she only left to focus on her true passion: agriculture. From 2007 to 2009, Genevieve coordinated Soup's On!, an innovative project at Equiterre aimed at introducing local organic foods in daycares, schools and hospitals. There, Genevieve also co-wrote an educational kit named Soup's On! as well as a storybook for kids (Kiko et le potager coloré) in order to help kids make more responsible food choices. Genevieve also worked at USC Canada (now SeedChange) for 10 years where she helps inform and mobilize the public on important food issues. Gen also worked (2019-2021) as executive director of the Table agroalimentaire de l'Outaouais, a nonprofit organization that works to coordinate the development of the agri-food sector in Outaouais and that also runs an agricultural research centre (CREDETAO) and a network of extension services (Réseau Agriconseils Outaouais). In her spare time, Genevieve loves farming with her husband and her kids, creating recipes featuring our veggies, as well as joining boards of community organizations (such as Écoute agricole as president)! Genevieve was recognized by Oxfam in 2012 as being a Female Food Hero. Gen steers the communications, marketing and business development on the farm and is a powerhouse in the wash station.