We love eggplant! Try grilling them on the BBQ, coated with oil, salt, pepper, and paprika. Or add it to your tomato sauce, pizzas and stir fries! Here are some of our other favourite eggplant recipes: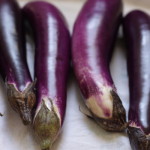 ASIAN EGGPLANT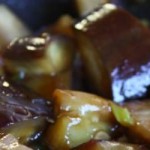 FEATURING: Eggplants, green onions, garlic or garlic scapes, and thai basil.
I love Szechuan eggplant and this recipe is delicious, if not better, than when I order it in a restaurant. Usually, I would use asian eggplants (long and thin) for this dish but I often use italian eggplants too and I find the dish is just as delicious. Serve over rice and feel free to accompany this meal with your favourite asian dish (optional). Top with thai or italian basil.
ITALIAN EGGPLANT
FYI- no need to salt and drain the eggplant we grow at the farm- it is not bitter at all!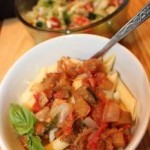 FEATURING: Eggplant, tomatoes, onion, garlic, and basil.
This is a really quick & light recipe, perfect for busy summer days! To make it cook faster, and so it is slightly more palatable to the kids, I now often remove the eggplant skin but you don't have too. If you do, the eggplant does become quite a bit more tender and cooks faster. Feel free to add chopped pitted olives- we just rarely do nowadays!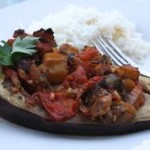 FEATURING: eggplant, onions, tomatoes, garlic, parsley or coriander.
Imam Bayildi is a well-known Turkish dish which literally means the Imam is exhilarated or the Imam fainted. Although there are many theories to explain it's name, most think it's due to the amazing taste of this simple recipe. The recipe below is my cheat/quicker version that I like to serve over rice and that I like just as much as the real thing. The real version (see hyperlink below) actually requires stuffing the eggplants- something I only do when I have time.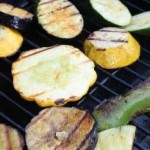 FEATURING: Zucchini, pattypan, eggplant, pepper, and any other veggies you have on hand!
This is not a recipe per say. Just use any veggies and spice combos you like. Here's a quick mix we often use! Note: eggplant cooks a little faster than zucchini, pattypan and peppers!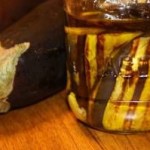 FEATURING: Egpplants and garlic.
This recipe is really easy to make and it tastes great! It turns any ordinary sandwich into a delightful extraordinary one. Great on pasta, pizza and focaccia also. Keeps 2-3 weeks in the fridge.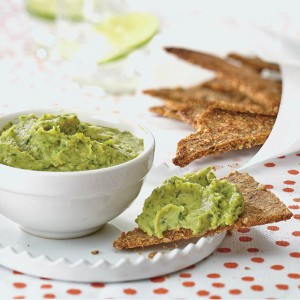 FEATURING: Eggplant
A different way to prepare eggplant that is great for dips and snacks… and does not require a dehydrator!
COMING SOON…
Babaganouj
Ratatouille
Vegan Eggplant Lasagna (the recipe is similar this one)